The wedding season is well and truly underway. Markets are swamped, as shoppers leave no stone unturned to dress their best for the occasion. For Delhi-NCR, Chandni Chowk is undoubtedly the one-stop shop that wedding shoppers throng to score the best outfits and accessories at affordable prices. All the same, one might be new to the scene, and feel a bit lost in the vast, labyrinthine streets and alleys full of garment and jewellery stores.
Thankfully, digital creators have scoured the neighbourhood for years, and present the best wedding apparels at most affordable prices. Most of these pages and channels started during the pandemic, when there were fewer shopping options for residents. We tell you about a few that you should follow to stay updated on the latest that drops on these gilded streets.
Ankita, who has been running her page on Instagram (@flauntdesi) since 2020, shares, "I love ethnicwear and there were not much options available online for it. Also, there is so much fraud that it's hard to trust a platform and review. So, I created a page where I could connect people with authentic sellers and Chandni Chowk is the hub for it. Now I visit shops, but during the pandemic, I created my content from home, talking to the shopkeepers and verifying their details on phone." Ankita, who has a following of 203k on Instagram, verifies every seller herself. "One can get browse through options for lehengas, crop top lehengas and gowns. I share contact numbers, name of the shop and prices for the product I post about," she adds.
Inspired by Aman Khurana, Aman Khan started his own page (@Ammykhanvlogs) in 2019. "I remember my cousin was getting married and when she went to buy a lehenga, it cost her a lot. I was shocked to hear the price. Then I thought, 'What about people who don't have this much to spend?' I got inspiration from my friend Aman Khurana, who shares videos on affordable apparel on his Instagram and YouTube. I created similar content and gradually people started loving my content," says Khan, who now has 13.8K subscribers on YouTube. Khan posts videos of bridal and partywear lehengas, designer crop tops, shararas, gararas, suits, sherwanis, designer gowns, designer sarees and much more, for both wholesale and retail buyers.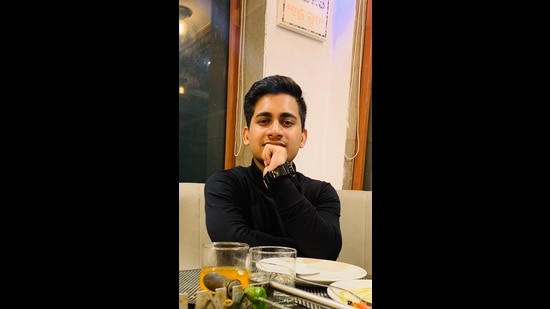 With 362K Instagram followers (@amankhuranavlogs), Aman Khurana was one of the pioneers of the trend. "I started my page in 2017 and my idea was to highlight the latest collections at Chandni Chowk, the right prices and details for the outfits so that people wouldn't be clueless, visiting the market," recalls Khurana. Viewers are often shocked to see collections with lehengas starting at ₹400 and bridal collections at ₹1,500. Through his page, thousands of brides ordered online lehengas from Chandni Chowk during the pandemic, as all the necessary details were available with his videos.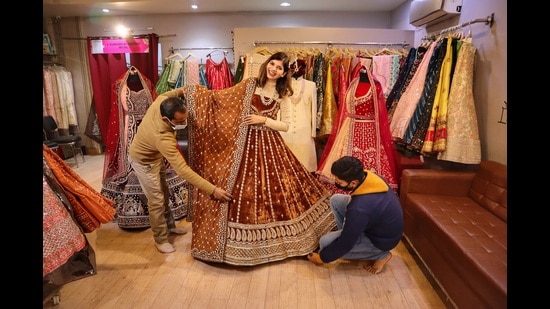 The most affordable and the big-budget ones — Jyoti Chahar showcases both on her channel (@themoi on Instagram). "But being a middle-class girl, I always look for trendy lehengas at affordable prices. I have also explored a few shops where you can buy lehengas for ₹250-500," says Chahar, who, in her videos, also guides viewers on ordering them online. "One can contact them through the details provided in the video description box and order it from home. Or you can shortlist shops from my lehenga videos and visit them," she adds.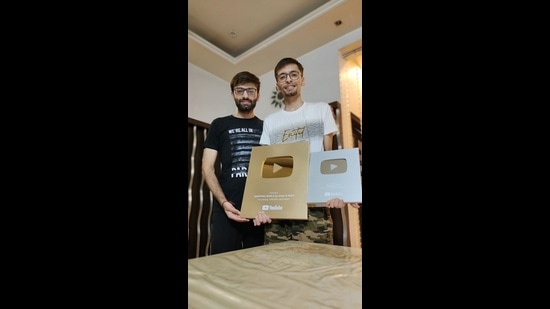 Aman Wadhwa's goal is to promote the hidden gems of Chandni Chowk that offer the most trendy partywear and non-bridalwear at affordable prices. Wadhwa's Youtube channel (@ShoppingWorld), started during the pandemic, has a following of 1.36 million. "Initially, it was challenging but the positive response motivated me to continue this along with my chartered accountancy course." He shares content for a wide gamut of clothing options, from partywear clothes and non-bridal lehengas to bridal lehengas and custom-made dresses at prices starting at ₹5,000. "One can place an order through contacting the number given on video and inquire about the products," says Wadhwa, who Instagrams @shoppingworld_yt.