---
Going out: Cinema
Barbie
Out now
She's a Barbie girl, in a Barbie world, as visualised by Greta Gerwig, the film-maker behind 2019's zesty reimagining of Little Women. Margot Robbie stars in the role she was born to play, while Ryan Gosling as Ken deliciously reminds us that before he was an Oscar-nominated actor he did a stint as a Disney Mouseketeer.
Cinema Rediscovered
26 to 30 July, various venues, Bristol
Bristol's premier arthouse cinema, the Watershed, is once more flinging its doors (and many others) wide open for an accessible and thoughtfully curated banquet of classic cinema for fans new and old. Featuring talks, Q&As and screenings of cinematic landmarks including Meshes of the Afternoon, M*A*S*H and Eve's Bayou.
Oppenheimer
Out now
In an era of so much "content" designed mainly to sell merch, it's fun to see Christopher Nolan given pots of money to make expensive films about dreams, time and space (Inception, Tenet, Interstellar). This time, it's the turn of nuclear war and the father of the atom bomb, J Robert Oppenheimer.
My Name Is Alfred Hitchcock
Out now
The talented and prolific film-maker Mark Cousins enlists the services of the impressionist Alistair McGowan to create a voiceover from none other than "Alfred Hitchcock" for this playful film that imagines the iconic director rewatching his own films and thinking about how they stand up today. Catherine Bray
---
Going out: Gigs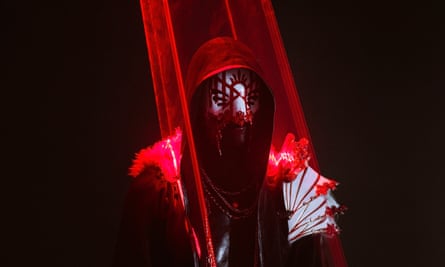 Radar
28 to 30 July, O2 Victoria Warehouse, Manchester
The award-winning festival championing experimental rock returns with another stacked lineup of professional noise merchants. Prog-metallers Sleep Token, fronted by the mysterious Vessel, headline on Friday, while synthwave heavyweight Perturbator and Welsh post-hardcore band Dream State are among the other highlights. Michael Cragg
Y Not? festival
28 to 30 July, Pikehall, Derbyshire
Started in 2005 with just 120 people, this east Midlands festival has grown both in status and size over the years. While the lineup continues to skews rock and indie – Royal Blood, Kasabian and Paul Weller headline – there is also room for experimentalists Everything Everything and pop star Maisie Peters. MC
Tommy Smith/Arild Anderson/Thomas Strønen
St Bride's Centre, Edinburgh, 22 July
A busy end to Edinburgh's jazz and blues festival features one of Europe's great creative improvising trios, comprising lyrical Scots sax virtuoso and bandleader Tommy Smith trading ideas on the fly with Norway's double-bass great Arild Anderson and his fellow countryman, percussionist Thomas Strønen. John Fordham
No for an Answer
Arcola theatre, London, 26 to 29 July
As its name signals, Grimeborn is a very different kind of opera festival from its country-house cousins. But it has become a staple in its own right, mixing new works with rediscoveries and fresh takes on repertory favourites. First of this year's novelties is Marc Blitzstein's 1941 musical play, depicting those who frequent a Greek-American social club at a time of austerity and unemployment. Andrew Clements
---
Going out: Art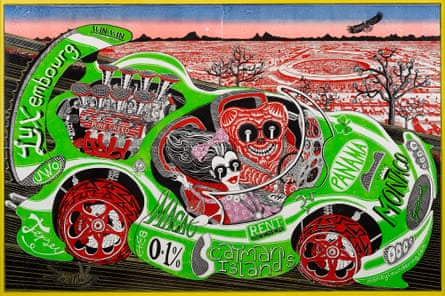 Grayson Perry
Scottish National Gallery, Edinburgh, 22 July to 12 November
The biggest ever retrospective of Perry's pots, tapestries, prints and more is a chance to assess the artistic significance of someone who straddles pop culture with consummate ease. Winning the Turner prize unleashed this articulate figure in a way it has liberated no other artist. But how do the works themselves all stack up?
Cinga Samson
White Cube Mason's Yard, London, to 26 August
This exhibition is called "Nzulu yemfihlakalo", a phrase in isiXhosa that can be translated as "the depth of mystery". South African painter Samson shows enigmatic scenes that seem to be parts of a troubling, violent story. Painted in oil on canvas, echoing photography yet slipping into ambiguity, these are chronicles of a tragic aftermath.
Diva
V&A South Kensington, London, to 7 April 2024
The cult of the "diva" started in 17th-century Italy when women emerged as stars in the new art of opera. Today, it has escaped the opera house, unleashing adoration and inspiration across pop culture. This show dreams of divas from Maria Callas to Grace Jones in art, fashion and music.
Boundary Encounters
Modern Art Oxford, 22 July to 29 October
This summer exhibition pushes ideas of participation, community involvement and the audience as actor. There is art to experience here, however, including an illuminated pavilion by Harold Offeh, sonic sculptures by Julie Freeman and a "space of care" by Valerie Asiimwe Amani. Deborah Pill explores the gallery's past. Jonathan Jones
---
Going out: Stage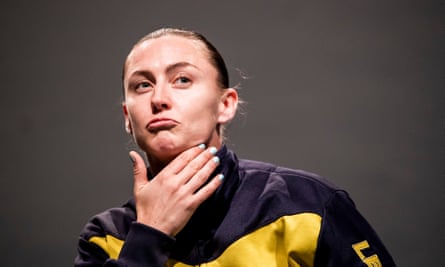 Oona Doherty: Hope Hunt
Bold Tendencies, London, 22 July
Brilliant solo work from the Northern Irish choreographer. Hope Hunt and the Ascension into Lazarus (to give it its full title) is an astute study of the oft-maligned working-class male. Doherty morphs into her characters, giving off tightly wound energy, riffing on violence and vulnerability. Lyndsey Winship
Durham fringe festival
Various venues, 26 to 30 July
Most festivals' comedy offerings combine recognisable names with hyped up-and-comers: not here. This north-east shindig sports a bill full of genuinely under-the-radar acts who could turn out to be eye-wateringly amateur or a total revelation. Finding out is half the fun. Rachel Aroesti
Grenfell: In the Words of Survivors
National Theatre: Dorfman, London, to 26 August
A powerful new verbatim show based on interviews with the survivors and bereaved from the Grenfell Tower tragedy. Created by Gillian Slovo and the product of a multi-year collaboration between the NT and communities in North Kensington. Miriam Gillinson
Galway international arts festival
Various venues, to 30 July
This exciting annual festival encompasses theatre, music, circus, visual arts, comedy and street spectacle. Colm Meaney returns to the stage in Enda Walsh's Bedbound, there's a Ulysses for children, while a huge puppet dragon roams Galway's streets. MG
---

Staying in: Streaming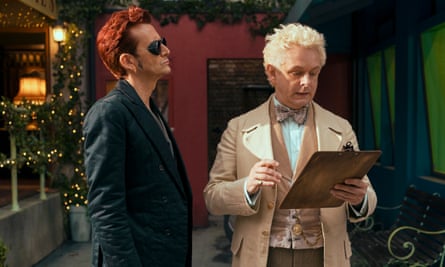 Good Omens
28 July, Prime Video
Michael Sheen plus David Tennant plus Neil Gaiman plus Terry Pratchett was always going to equal striking TV. The latter pair's 1990 novel about an angel and demon who team up to prevent the apocalypse was the basis for series one of this arch comedy; series two expands the story, with Jon Hamm's Archangel Gabriel a major player.
Dreaming Whilst Black
24 July, 10pm, BBC Three & iPlayer
Adjani Salmon is finally living the dream: five years after the Jamaican writer released his semi-autobiographical webseries, it has been turned into a shiny nine-part BBC comedy, with Salmon starring as Kwabena, a wannabe film-maker attempting to swap his soul-destroying office job for the director's chair.
The Girl from Plainville
26 July, 10pm, Channel 4
This incredibly disturbing US drama – based on the true story of a teenage girl who was accused of encouraging her boyfriend to kill himself via text – arrives on a mainstream streamer this side of the pond. The excellent Elle Fanning plays the girl at the centre of the case; the equally impressive Chloë Sevigny is the boy's devastated mother.
Special Ops: Lioness
23 July, Paramount+
In just a few short years, Taylor Sheridan has gone from jobbing actor to one of the most prolific programme creators in the US, with Yellowstone, 1883, Tulsa King and Mayor of Kingstown in his arsenal. Now he adds this starry spy thriller – featuring Morgan Freeman, Nicole Kidman and Zoe Saldaña – about an agent tasked with befriending a terrorist's daughter. RA
---
Staying in: Games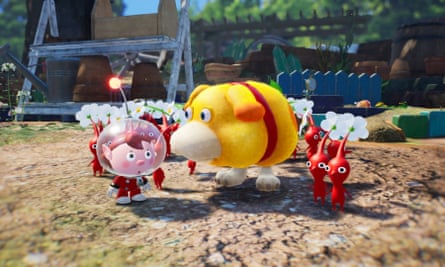 Pikmin 4
Nintendo Switch, out now
The return of Nintendo's much-loved real-time strategy game in which players cultivate an army of teeny plant-like critters to battle enemies and search the rich, miniature environment for goodies. A cute, delightful time sink.
Disney Illusion Island
Nintendo Switch, out 28 July
Inspired by the classic Castle of Illusion on the Sega Mega Drive, this beautiful, if deceptively challenging platformer allows up to four players to take part, guiding Mickey, Minnie, Donald and Goofy across a mysterious island to combat a dark force that threatens the world. Keith Stuart
---
Staying in: Albums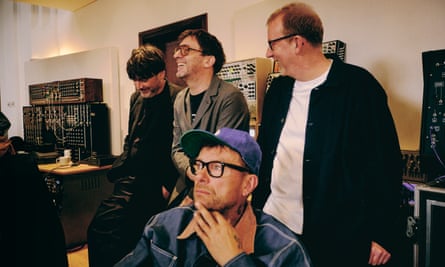 Blur – The Ballad of Darren
Out now
Eight years after their patchy comeback The Magic Whip, Damon, Alex, Graham and Dave return once again with their curiously titled, James Ford-produced ninth album. Careworn lead single The Narcissist found them at their self-reflective best, while St Charles Square – already a live favourite – is a ragged, Bowie-esque stomp.
Various artists – Barbie: The Album
Out now
Barbie's blanket cultural dominance extends to music this week with the release of this superstar-stacked soundtrack, executive-produced by elegantly bequiffed knob-twiddler Mark Ronson. Dua Lipa, Billie Eilish, Lizzo and Charli XCX bring big pop, while Haim and Dominic Fike add some indie textures.
NewJeans – Get Up
Out now
Earlier this year, NewJeans – Minji, Hanni, Danielle, Haerin and Hyein – became the fastest K-pop act to reach 1bn streams on Spotify. Not bad for a group who only debuted in 2022. This second EP of tactile, 90s-influenced pop-R&B features Danish cult star Erika de Casier on co-songwriting duties.
Paris Texas – Mid Air
Out now
LA-based rapper-producers Louie Pastel and Felix, AKA Paris Texas, follow up 2021's debut Boy Anonymous with this similarly genre-agnostic excavation of modern life. While the frantic PANIC!!! is a braggadocious riot, the paranoid-sounding, breakbeat-driven Everybody's Safe Until … is more introspective, exploring hopelessness and vulnerability. MC
---
Staying in: Brain food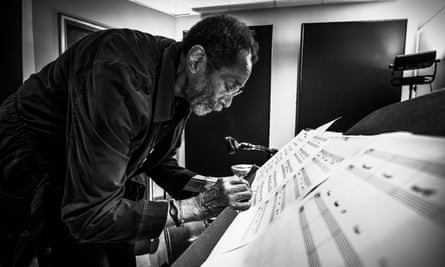 Ron Carter: Finding the Right Notes
28 July, 8.50pm, PBS America
Prolific jazz bass player Ron Carter is the quietly authoritative focus of this film. It's packed with concert archive, and we also hear from collaborators such as Sonny Rollins and Herbie Hancock.
The Visible Voices
Podcast
Doctor Resa E Lewiss's policy-focused series artfully balances detail with narrative, welcoming heavyweight experts to talk through the biggest issues affecting global healthcare. Recent topics covered include gun violence as a public health issue and environmental health.
NativLang
YouTube
Joshua Rudder's YouTube channel puts an engaging spin on the analysis of languages. Using colourful animations, Rudder traces the connections between our cultures and speech, exploring everything from unpronounceable phonemes to forgotten scripts. Ammar Kalia