South Korea-based entertainment giant SM Entertainment generated revenues of 238.1 billion South Korea Won (USD $179.4m) in Q3 2022 (the three months to end of September).
That's according to investor filings published by the firm on Monday (November 14). That $179.4 million revenue haul represents growth of 65.4% YoY.
SM's roster includes K-Pop stars like SUPER JUNIOR, Girls' Generation, SHINee, EXO, Red Velvet, KANGTA, BoA, TVXQ!, NCT and aespa.
SM's operating profit in Q3 was 29.8 billion South Korea Won ($22.4m), up 201.4% YoY, from 9.9 billion South Korea Won ($7.4m) in Q3 2021.
The company's net profit reached 29.2 billion won ($22.1 million) in Q3.
Digging deeper into the filling reveals that SM's 'Album/ Digital music' segment was the company's biggest revenue driver in Q3, generating 72 billion South Korea Won ($54.3m) across the quarter.
That revenue figure represented YoY growth of 14.5% versus 66.8 billion South Korea Won ($50.4m) in Q3 2021 (see below).
The company's second-biggest revenue source was its 'MD/Licensing' business unit, which generated 26.4 billion South Korea Won ($1.9m) in Q3 2022, up 76.1% YoY.
---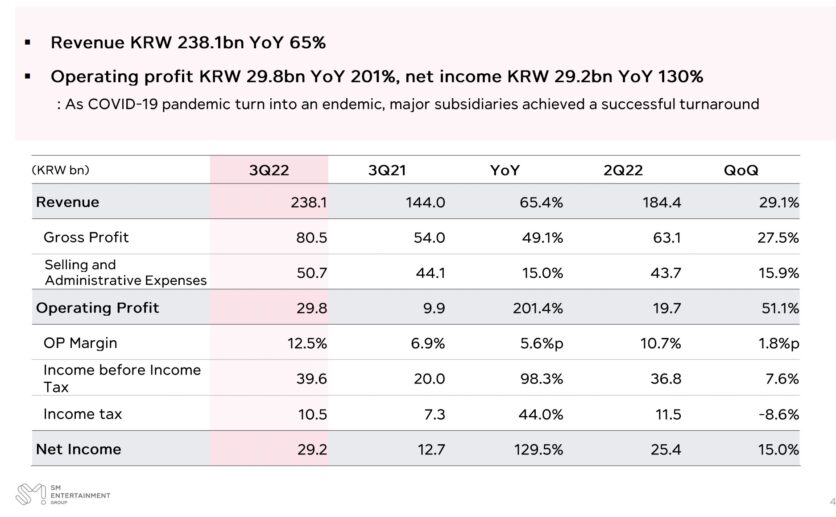 ---
Other highlights included SM's revenues derived from artist appearances on TV, ads and events, which generated 24.3 billion South Korea Won ($18.3m) in Q3, up 96.4% YoY.
SM's concert revenues grew 1315.3% YoY, from 800 million South Korea Won in Q3 2021 to 10.9 billion South Korea Won ($8.2m) in Q3 2022.
---
---
SM also breaks out the financial performance of its various subsidiaries within its filing, including live entertainment company Dreammaker, which saw its revenues soar by 569.6% YoY to 24.5 billion South Korea Won ($18.4m) in Q3.
That growth was driven by the reopening of concerts both domestically within South Korea and internationally following a lengthy break due to Covid.
---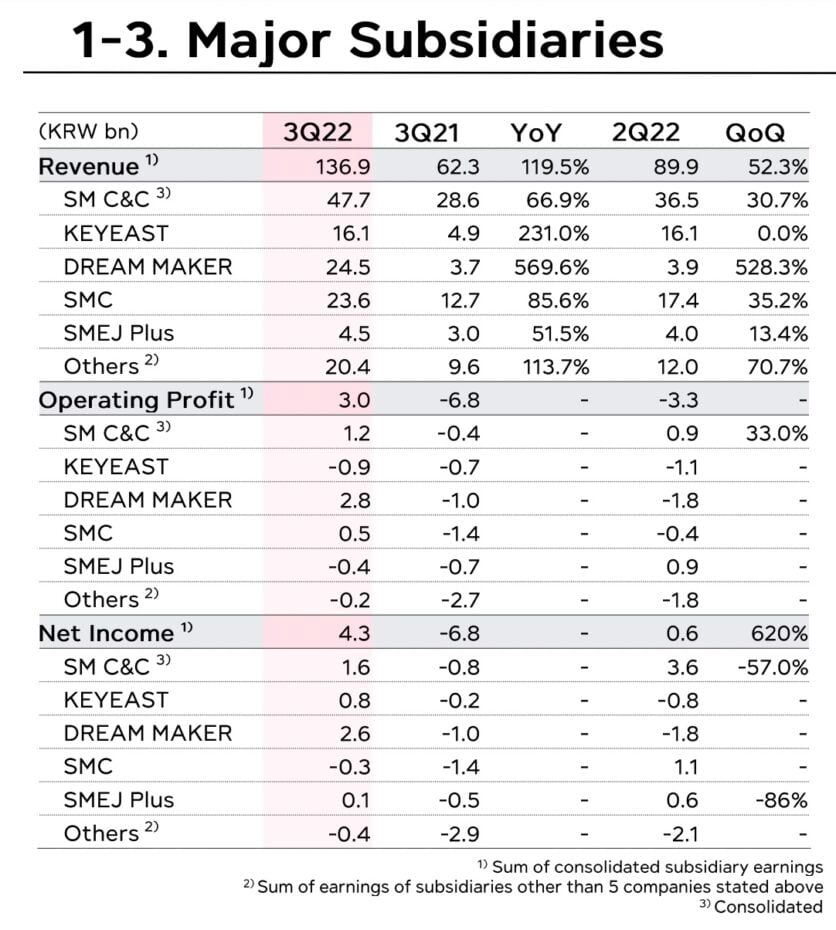 ---
The publication of SM's results follows the news from earlier this month that Com2uS, a South Korean game publisher, had acquired a 4.2% stake in the company after buying 990,000 shares.
Korea Economic Daily reported that the value of the shares acquired amounted to 67 billion South Korea Won ($47m).
Reports in South Korea-based media suggest that Com2uS bought those SM Entertainment shares ahead of the company's general meeting in March 2023 to support SM Entertainment founder Lee Soo-man, as minority shareholders are pushing for his resignation as chief producer.
Last month, SM Entertainment cut ties with a private company wholly owned by Lee called Like Planning. Lee Soo-man is still SM Entertainment's largest shareholder with an 18.5% stake.
Founded in 1995, SM Entertainment has become one of the biggest K-Pop agencies in South Korea alongside the likes of HYBE, the company behind BTS and JYP Entertainment, the company behind acts like Stray Kids and TWICE.Music Business Worldwide